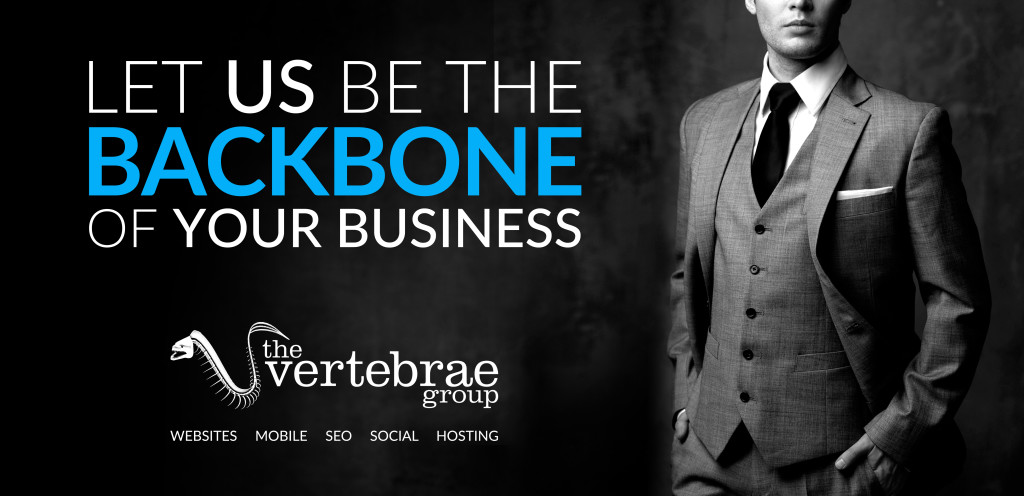 At the Vertebrae Group, we bring comprehensive experience to online marketing. Although we provide services to Fortune 100 & 500 companies, our true passion lies in helping small businesses achieve their goals through measured and targeted online marketing strategy. Sometimes, it takes an outside perspective to envision the larger marketing picture.
With our diverse interactive marketing experience, we help build the backbone of business one service at a time by focusing on attributes that we believe are key to growth and success.
Our initial priority is to focus on a company's validity and appeal, which when combined, cultivates trust between our clients and their customers. The Vertebrae Group provides a complete suite of services that range from graphic and web design to the creation of printed sales materials and social media management. With consistent, professionally crafted messaging, we ensure that businesses will make a polished first impression.
While branding is crucial, we provide much more than design. Our team continues to innovate and provide you with a variety of services to manage your business and expand your audience.
Businesses are constantly facing new challenges. We offer fresh ideas and extended capability to save you both time and money. Custom programming and application development are just the tip of the iceberg when it comes to creating unique solutions for your business. Consulting the Vertebrae Group on your business's obstacles is an excellent place to start!
With over 20 years of experience in developing digital solutions, the Vertebrae Group provides the foundation that small business owners need to achieve their goals. If your business needs web development, 3d animation, professional photography, exclusive web hosting, mobile application development or any combination of online services, the Vertebrae Group is ready to assist.
Our services are built one upon another to create the backbone of your business. Have an online marketing need? Contact the Vertebrae Group today.